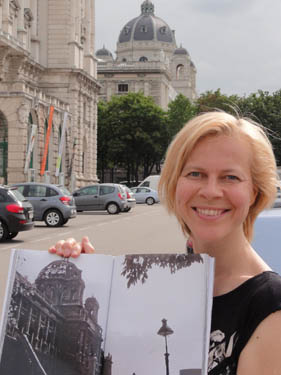 Karin shows you Vienna 1945-1955, here in front of the Museum of Fine Arts
Photo (c) Cold War Vienna Tours
PROFILE::KARIN HÖFLER
Licenced guide (Austria guide)
Karin Höfler is co-founder of the THIRD MAN MUSEUM devoted to the film classic "The Third Man" shot in Vienna in 1948. Large parts of the museum catalogue on the film's post-war background are written by Karin.
Karin is also japanologist and interpreter. She is fascinated how different the three losing countries after WWII deal with their past: Germany forced by the Allies to reveal its past in detail, Austria conveniently treated as "first victim to Hitler" and Japan regarding its bad times during the war like another overcome natural disaster.
Karin offers tours in English, German and Japanese.
Links to more information on Karin Höfler
Personal Website: www.come2vienna.net
Third Man Museum: www.3mpc.net